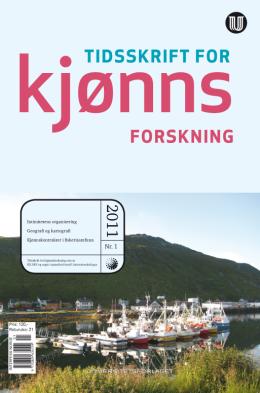 Articles
Arnfinn J. Andersen:
From hetero-romanticism to multiple communities of desire. The changed organisation of intimacy
In our culture, desire has traditionally been associated with sexual desire. This essay will argue, however, that desire has acquired a much broader meaning; desire can indicate a need for intimacy, as well as a need for contact, neither of which are necessarily sexual. Based on several Norwegian studies and other material from West European societies, this article seeks to develop a better understanding of the relationship between intimacy and desire. What is the significance of friendship and relationship at a time when intimacy and closeness are sought in interaction between both couples and friends? How does this influence our understanding of relationships between couples and friends as social categories and the way we understand the basis for social communities?
Keywords: Intimacy, friendship, relationships, sex, family
Halldis Valestrand:
Cartographies and geographies: some challenges for transnational feminist research
The use of geographical/cartographic concepts in transnational feminist studies seems to continue and this article is a review and discussion of how such concepts, often uncritically, are transferred from geography and cartography. It argues that the route travelled by these concepts often passes through postcolonial texts and that the translation processes need to be scrutinised more than they presently appear to be. The article gives a short overview of cartography as a masculine realm, in which feminists have more recently begun to apply GIS technology in non-controlling ways, before looking at some aspects of governance and territory.
Keywords: Geographical concepts, transnational feminism, post-colonialism, feminist cartography, textual translations
Siri Gerrard:
Mobile practices and gender contracts in fishing communities
This article addresses women's and men's mobile practices during two periods: from the end of 1944 to the late 1980s and from 1990 until today. The local context is fishing villages, particularly Skarsvåg in the county of Finnmark, North Norway. Mobile practices consist of out-migration, immigration and various forms of commuting, practices related to post-war reconstruction and industrialization, fishery regulations, education and centralization of institutions and people. Analytical approaches build on gender perspectives and relevant discussions in anthropology and geography. Interrelation between women's and men's experiences and gender contracts are emphasized. These concepts open up for an understanding of structural, material and cultural changes.
Keywords: Gender, mobile practices and mobilities, gender contracts, fishery communities, Finnmark, North Norway