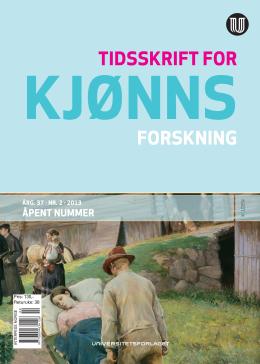 Articles
Halvor Moxnes:
"The Modern Breakthrough" and Christian Masculinity of Bourgeois Theologians in Norway
The last part of the 19th century was a period of transformation of the Norwegian society with modernization and criticism of Christianity. The women's movement was one of the major forces of modernization, and it challenged the theological basis for women's subordination. The liberal university professors of theology did not meet this criticism directly; by and large they defended women's subordination with theological arguments. This essay deals with this conflict from another perspective, seeing the crisis of modernity as a crisis for masculinity and male roles when confronted with new demands and social changes. Since Jesus was the primary (male) ideal for Christian identity, presentations of Jesus in books by Norwegian (all male) theologians from this period reflect attempts to form a new, male identity. In these books a traditional masculinity is transformed to integrate both masculine and feminine characteristics. However, the negative contrast to this new ideal masculinity was described in terms that traditionally were characterized as feminine. This pattern appears to be in line with the contrast popular in Nordic masculinity research between "manly" and "unmanly". However, in these writings by Norwegian theologians and critics we also find another contrast, between (the positive) "manly" and (the negative) "only manly", or "hyper masculine".
Key words: Norway, modernity, masculine theology, Jesus, male ideal, women's liberation.
Gunnar Uhlmann:
Myths and realities about female municipal chief administrative officers
The central board of KS decided in 2005 that one main goal for the organization was, regarding the position as municipal chief administrative officer, to achieve an equal distribution between sexes at the end of 2015. A consultant report based on statistical data from KS`s own database, the PAI-register, concludes with the following; the municipal chief administrative officers are mainly men, women are rarely employed and those who are have a high turnover. The report stated that women who are hired mostly quit after an unusual short period of time in the position. The report concluded, on this basis, that further efforts to facilitate getting women employed as municipal chief administrative officers would be meaningless. My article questions the accuracy of the statistical data in KS own database, and thereby the findings in the consultant's report. My article compares the statistical data from KS with numbers from another source. I also highlight the negative results they entail to women who are both planning to apply as well as those who already have applied for the position as municipal chief administrative officer.
Key words: Woman, municipal chief administrative officer, sex, gender, gender inequality, work, employment, inaccurate data records
Jonatan Leer:
Gastronomic drags. A discussion of gender positioning and subversion in cooking shows through an analysis of Two Fat Ladies
TV-cooking shows can be considered as a social space in which the codes for "doing food" and "doing gender" in the post-traditional culture are being negotiated. In this article, I will explore a case in which the "gendering" of food culture is challenged, namely the show Two Fat Ladies with Jennifer Parson and Clarissa Dickson Wright (1996–1999). I will argue that the two self-declared fat women can be read as "gastronomic drags" by their transgression of a "recognizable" feminine way of "doing food".
The article is theoretically informed by the reflections on drag as subversive practice in Søndergaard (1994, 1996) and Butler (1990, 1993). These texts and two TV-shows, The Naked Chef (1999–2001) and Nigella Bites (1999–2001), are used to underline and discuss the ambivalence of such gastronomic drag performances. The challenges of gender conventions presented in the article are all in danger of appearing either too radical or not radical enough. The article concludes with some reflections on the development of the cooking show as a site for gendered negotiation from the 90's and today.
Key words: Gendering of cooking, food television, drag, celebrity chefs, Judith Butler, Dorte-Marie Søndergaard, Claude Fischler
Karen Christensen and Liv Johanne Syltevik:
Paid work and women's work. Discussing work again
In the 1970s central discussions on the concept of work took place within the social sciences. In particular empirical studies into women's unpaid house- and care work challenged the hegemonic paid-work-concept. This article lightens the history of these discussions comprising various resistances against the paid-work-concept and leading to the inclusion of unpaid work in the discussions. However, since the 1970s significant changes have taken place in relation to gender and work in the western world, in particular in Scandinavia. On this background the article discusses limitations of the suggested work concepts of the 1970s and points at two current attempts of approaching work: one from the sociology of work (Glucksmann) and one from the sociology of care (Ungerson). While Glucksmann, inspired by Durkheim, develops a scheme including all types of work and their distribution, Ungerson, rather Marxist inspired, focuses on the relation between structural conditions and emotional work tensions. The article suggests that the combination of these approaches can serve as a constructive point of departure for a concept of work that is relevant to work-gender research and simultaneously is empirically sensitive to future changes.
Key words: work, house- and care-work, paid work, unpaid work, gender