Gender Balance and Gender Equality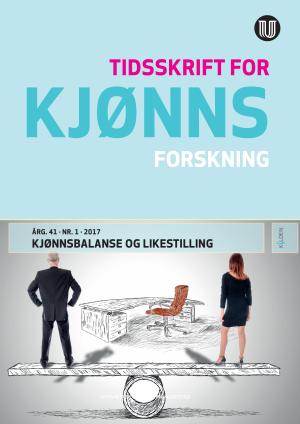 This issue of the Journal for Gender Research is titled "Gender Balance and Gender Equality". Several of the articles are based on BALANCE projects, supported by the Research Council of Norway's BALANCE program.
Articles
Forward in All Directions! Implementation of a gender balance project in academia
by Jorun Ulvestad
In this article, I analyze sensemaking among middle managers in a Norwegian university college when it comes to the implementation of a project on gender balance. Based on focus group interviews and Karl E. Weick's (1995) social constructivist perspectives on sense-making, we learn in what way the intentions in the project about gender balance meet the existing cultures, and find that creation of meaning among the middle managers points in contrasting directions. The project's main concept of gender balance is partially transformed into a more general idea of competence development. This leads to a local organizational offshoot in the shape of offering men their own competence development project. In addition, we learn how Michel Foucault's (2002) concept of governmentality might be a point of departure for seeing how certain power structures can prevent female researchers from achieving a top career in academia.
Keywords: gender balance, organization, culture, academia, sensemaking, middle managers, transformation, governmentality, structural perspectives
Gender balance in top-level academic positions – with an eye to challenges and future opportunities
by Gry Brandser og Sevil Sümer
The article is a contribution to the growing body of research literature that examines the prevailing gender imbalance at top-level academic positions. It is based on a research project aimed at gathering new knowledge on the underlying institutional and cultural processes leading to gender imbalance in academic top-level positions and research leadership in three institutions in Norway. The analysis indicates that the past decades reforms in Norwegian higher education have affected the career dynamics of women and men in different ways. The article argues that the lower representation of women in leading academic positions is a consequence of a complex interaction of Matthew and Matilda-effects in which institutionalized codes and gender stereotypes play a key role in producing what is termed «the Medusa-effect».
Keywords: gender, academia, senior positions, gender stereotypes, researcher role, Matthew-Matilda-Medusa effects
Law and Gender in Transition: Why Are There Still Few Female Law Professors?
by Trine Rogg Korsvik
Women are still underrepresented in academic top positions at the Faculty of Law, University of Oslo, despite a majority of female students in the last 20 years. The article discusses findings from interviews conducted among 48 female and male lawyers employed in permanent academic positions at this faculty in 2016. The gender balance here does not differ significantly from the Norwegian university sector at large, as 71 % of professors are men and women are relatively invisible as academic authorities on the curriculum as well as lecturers. The elected leadership consists only of men, and the environment has traditionally been characterized by hierarchical «territorial thinking» and battles between «alpha males». The article explains the underrepresentation of women as a result of interactions between structural and cultural conditions. However, it also focusses on changes which have occurred over the past 10 to 12 years, partly as a result of the old staff being retired, partly as a result of the faculty's policies of recruiting women academics. The study also reveals gender equality issues that call for further research, including the problem of unwanted sexual attention.
Keywords: lawyers, gendered academic culture, gender equality policies, work-life balance
How Do We Change a Male Bastion? Is gender equality a better approach than a diversity perspective?
by Linn Andersen, Ulla-Britt Lilleaas og Dag Ellingsen
The Norwegian Police has, for some decades and with some success, worked to achieve gender equality in the Force. The perspective has now turned from gender equality towards diversity. Which implications does that turn have? After interviewing a number of central police informants, we raise the questions: Is there an inherit conflict between the two perspectives? What positive and negative consequences are seen when using these two perspectives in an organization that can still be labelled a «male bastion»? Are women part of a social diversity? Is diversity less controversial because it opens for an integration of men who represent traditional masculinity? Is it possible to have more than two perspectives at one time, given the severe obstacles? We want to answer some of these questions when analyzing the perspectives on inclusion, recruitment and anti-discrimination that have been in use in the Police – together with some experiences from another male bastion: The Norwegian military of defence.
Keywords: gender equality, diversity, male dominance, police studies
Corporate Feminism? The Consulting Industry as an Arena for Working with Gender Equality
by Elisabeth Olivius and Malin Rönnblom
Sweden is often regarded as one of the most gender-equal countries in the world, both by its own government and by organisations like the OECD and the UN. In this article, official Swedish efforts to promote gender equality are scrutinised against the backdrop of new forms of governing, where market rationalities and having «the right knowledge» have to a large extent come to replace conflicting interests in politics. The aim is to investigate the effects of this for the content of gender equality politics and policy when implemented through market based forms of governing, using the empirical example of gender equality consultants. The empirical material consists of eleven phone interviews with Swedish gender equality consultants, as well as an analysis of twenty consultancy businesses' homepages. In the interviews, the consultants discuss their ambitions, driving forces and reasons for working as gender equality consultants, as well as their position on the effects, possibilities and restraints when working with gender equality as a consultant. The analysis is inspired by a governmentality approach.
Keywords: gender equality, consultants, market governance, govermentality, public entrepreneurship
This journal can be read in its entirety from this issue (no. 1/2017) on at Kilden's Norwegian web site, kjonnsforskning.no