The Journal of Gender Research: Open issue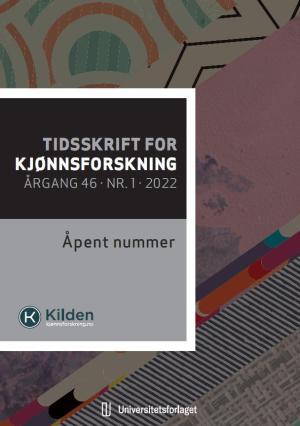 The first issue in 2022 is an open issue. Still, all of the articles have a common theme: motherhood. You can read about infanticide, soundness of mind and unwed mothers in the Norwegian Criminal Code of 1902, about bodily experiences of mothers of young children trying to balance domestic and professional work, and about motherhood and mental illness.
DOI: 10.18261/issn.1891-1781
"the Feverish, Partially Unsound Mental Condition, That Birth Brings About»
– Infanticide, Soundness of Mind and Unwed Mothers in the Norwegian Criminal Code of 1902
By Maria Antonie Sæther
The Norwegian Criminal Code of 1902 established a lenient sentence for infanticide committed by unmarried mothers, substantiated by arguments of a weakened mental condition. In this article, I discuss how the Norwegian Infanticide Act was understood by lawyers and physicians in the period 1905–1981. The article is based on the legislative history of the 1902 Criminal Code, summaries from infanticide cases that went before the Supreme Court and medical literature. I argue that the weakened mental condition that unwed mothers were assumed to suffer from during infanticide was understood as a social condition and not necessarily as a medical condition.
Keywords: Motherliness, penalty, infanticide, history, sanity
---
The Sensitised Body: A Phenomenological Study of Caring Experiences and Health Among Mothers of Young Children
By Sunniva Rivedal, Hilde Bondevik, Lisbeth Thoresen, and Gunvor Aasbø
Women experiencing pregnancy and maternity have distinct bodily experiences. Existing research addressing how mothers of young children balance domestic and professional work provides an insight into different mental, social and cultural conflicts which may have health-related implications. Drawing on an embodied phenomenological perspective, the aim of this study is to develop knowledge about how working mothers of young children experience their bodies in the act of caring daily for their children, and in what ways these experiences may illuminate health and vulnerability of mothers of young children. The study is based on nine qualitative in-depth interviews with selected mothers who each worked approximately full-time and had two children in kindergarten. The empirical material was analysed using thematic analysis. This article explores the body as the basis of care and conflicts regarding ways 'to do' and 'to sense' embodied experiences of care. The mothers' bodily experiences are interpreted as sensitised bodies towards their children. The exhausted body is understood as particularly vulnerable. The body as continuously present and prepared, and efforts to equalise the parenting bodies are understood as crucial for this vulnerability. Through interpretation and concept development, this study highlights and generates new awareness about the relationship between bodily experiences of care, gender and health. 
Keywords: Embodied experience, phenomenology, health, young children, working mothers, gender
---
Mothers in Crisis. Motherhood and Mental Illness in the Drama Comedy Series The Breastfeeding Room
By Cecilia Pettersson 
This article begins with the discussion about motherhood that followed the premiere of SVT's drama comedy series The Breastfeeding Room (2020). The TV series portrays women struggling with their experience of motherhood and suffering from various forms of mental illness. The drama series' depictions are set in relation to recent research on motherhood and women's postnatal illness. The ambition for the article is to scrutinize the extent to which The Breastfeeding Room consolidates or resists the notions of motherhood and mental illness that exist today. The analysis shows that The Breastfeeding Room's story of motherhood and mental illness after childbirth is a complex one, in which contradictory notions of motherhood are expressed. The women in The Breastfeeding Room are not portrayed as traditional feminist heroines. Nevertheless, the series as a whole presents a view of the relationship between motherhood and mental illness, its symptoms and possible cures, that are consistent with that one found in much of feminist-oriented motherhood studies and research on women's postnatal illness. According to this view, social and cultural factors are thought to cause maternal illness, while conversations, support and men's increased participation in children and housework are understood as the means that can reduce such mental illness.
Keywords: Motherhood, postpartum depression, eating disorder, gender, TV series, 2020s