"My academic interest in Hannah Ryggen's art began when a colleague and two students asked me why Ryggen was given so little attention in Norwegian art history," says Marit Paasche.
In June 2018, she completed her PhD thesis on Hannah Ryggen, two years after she wrote the biography Hannah Ryggen. En fri. ('Hannah Ryggen. Free'). In her thesis, she addresses the scholarly debates that were fundamental to the biography, which had to be left out due to space limitations. 
A forgotten pioneer?
The question made Paasche curious. She began to survey what had been written about Hannah Ryggen in Norwegian art history and to re-examine the exhibitions of Ryggen's tapestries.  
"I was astonished. Ryggen's tapestry art is a significant part of national and international art history, yet what has been written about her largely lack evidence from any sources, and is therefore without academic credibility."
It was the year 2009. Paasche was writing the article 'Vi husker deg Hannah' ('We remember you, Hannah') about Ryggen's artistic career in the weekly newspaper Morgenbladet, which resulted in an invitation to work as a curator for a major Hannah Ryggen exhibition in Kunsthall Oslo in 2011.
We take for granted that the women who are 'brought out of oblivion' were marginalised or overlooked in their own time.
"At the time, the relaunch of female artists like Hilma af Klint, Paula Modersohn Becker, Carol Rama, Elsa von Freytag-Loringhoven, Anni Albers and others had not yet begun," says Paasche.
"I support this work, because I think it contributes to a necessary correction of a male dominated modernism. At the same time, it is highly interesting that we take for granted that the women who are 'brought out of oblivion' were marginalised or overlooked in their own time."
Paasche also presumed that Ryggen was neglected by her contemporaries.
"But as I began to examine the material from the archives, I soon realised that this was not the case. Contrary to many of her female colleagues, Ryggen was declared a genius by several male art critics. She frequently exhibited her work internationally, and was one of Norway's most reviewed artists. In 1964, for instance, she represented Norway at the Venice Biennale," says the researcher.
"It was striking to see how what was written about Ryggen in the eighties and nineties did not at all reflect the quality of her art and her significance in her own time."
Imprecise literature
Hannah Ryggen saved everything from she was very young, both her own writings and what others wrote about her. According to Paasche, Ryggen must have been extremely self-conscious.
"She must have known that someone would write her story sooner or later. As far as I am aware, there is no other private archive of any other female Norwegian artist from this period as big as this one."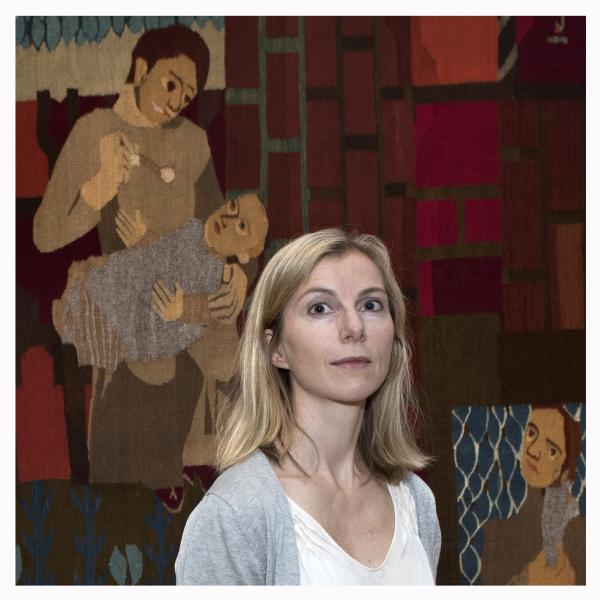 Despite the major interest in Ryggen's artistic career in her own time, the attention subsided during the sixties. The first book about Hannah Ryggen was written by the art historian Albert Steen in 1986.
"There was a shift already in the late forties and in the fifties. Both Ryggen herself and her art were referred to in more conservative terms."
Adjectives such as primitive, naïve, simple and rustic were used repeatedly, in addition to terms such as witchcraft, wood nymph, sorcery and black magic.
"These words were frequently used in literature about Ryggen, and contributed to the creation of a myth of an artist that did not correspond well with the ideals of modernism," according to Paasche.
"Steen's book is both paternalistic and imprecise. He quotes Hannah Ryggen freely without letting the reader know to whom she has said these things or in which context."
Emphasis on the biographical
Originally, Paasche did not intend to write a biography about Hannah Ryggen. She wanted to write a formal analysis of her art works, detached from biographical events.
"I was educated within a tradition in art history that focused strictly upon the work of art, completely disregarding the artist's personal life and circumstances," she explains.
But after having examined Ryggen's private archives at National Museum of Decorative Arts and Design (Nordenfjeldske kunstmuseum), at the Gunnerus Library and the Artists' Association's archive at the National Library, Paasche made a surprising discovery that made her change her mind.
"I was more or less done with what I thought would be a book when someone told me about the art historian Pia Widell in Lund, Sweden. She had started working on a PhD about Ryggen, but due to illness she never finished," says Paasche.
"Widell had gathered a large amount of source material about Hannah Ryggen from the artist's relatives and friends. An entire room filled with letters, photographs, newspaper clippings and other documents about her awaited me."
Hannah Ryggen spent most of her life and her time creating art, and she considered her works as political statements to the public.
Paasche spent four months going through everything. In the process, she realised that the biographical dimension had to be given a more prominent place than she had initially intended.
"I had to start over. Hannah Ryggen spent most of her life and her time creating art, and she considered her works as political statements to the public.
Ryggen's artworks represent ongoing 'negotiations' between the artist and external factors surrounding her, and Paasche had to choose a form that made it possible to describe these.
"These are factors such as traditions within the history of art, politics, family relations, financial conditions, local identity and social networks," she explains.
"I would not have been able to do that in a traditional art historical analysis. Therefore, I have tried to push the limits of the genre and chosen a combination of monograph and biography."
Myths and ideas
Paasche was also sceptical towards emphasising Hannah Ryggen as a female artist.
"Primarily, men figure as biographical objects, and it is mostly men that write about other 'big men'. When the object of the biography is a woman, the biographer is often also a woman, as in my case."
She thinks being a woman who writes about a female artist thus becomes a sort of 'Catch 22'.
"I am automatically put in a position in which I represent something – my own sex. There is also the danger that the label 'neglected female artist', as I mentioned before, will stick to the project," says Paasche.
"Bringing historic women back from oblivion and calling attention to their greatness has, as I have said earlier, been a common motivation for writing about female artists. Several newspapers were eager to use this approach, and I had to emphasise to them that I am not a fan of the expression 'female artist' – or 'female writer' for that matter." 
According to Paasche, Hannah Ryggen's gender and the medium through which she expressed herself – the tapestry – contributed to her being considered less significant by Norwegian art, particularly during the 1980s and 1990s.
Broke with tradition
Hannah Ryggen was originally educated as a painter, but changed to tapestry early in her career around 1920. This proved to be a good move, although she was unaware of that at the time, according to Paasche.
"Ryggen transferred the composition of the painting to tapestry. At the same time, the loom allowed her to use a much, much bigger format,"
"No women painted large paintings at that time. The art form also made her in charge of the whole process, from spinning and dyeing the yarn to the weaving itself. Moreover, tapestry is more robust and easier to transport than paintings."
Hannah Ryggen was also one of the first women in Norway to break with the tradition within which the male artist drew the motif on cardboard and the female craftswoman transferred it to tapestry. 
Textile art has traditionally been considered a female activity. It is associated with the decorative, the antithesis of modernist art.
"The idea of painting as art and tapestry as craft is still prominent today, and has affected posterity's views on Hannah Ryggen and her art," says Paasche.
"Textile art has traditionally been considered a female activity. It is associated with the decorative, the antithesis of modernist art."
At the same time, it had its benefits. Hannah Ryggen did not compete with any man within this genre. And she was able to re-define the tradition by incorporating contemporary political motifs into the tapestry.
"For instance, in 1935, she made the tapestry 'Ethiopia' in protest of Italy and Mussolini's invasion of Ethiopia. In this work, Mussolini's' head is pierced by a black man's spear, a clear demonstration of her wish to see Mussolini dead," says Paasche.
'Ethiopia' was exhibited at the International Exposition of Art and Technology in Modern Life in Paris in 1937, where Picasso's famous painting Guernica was also displayed. It was Hannah Ryggen's work, however, and not Picasso's that was censored. Fearing that Italian authorities would be offended, the organisers folded the tapestry in a way that concealed Mussolini's head and made it impossible for visitors to see.
Neglected by posterity
Hannah Ryggen also created an image of herself as an artist who would not be influenced by other artists.
"Ryggen was good at giving the journalists what they wanted in interviews. She would willingly contribute with stories that supported the journalists' conceptions of her," says Paasche.
"She promoted herself as unaffected by external impulses, although this was clearly not the case. She read fiction from all over the world, had frequent exhibitions abroad and was fully up-to-date on international contemporary art."
Despite this, Ryggen's art has not been connected to contemporary events on the rest of the continent. Rather, the national dimension has been emphasised.
"Both scholarly literature, journalists and art critics created an image of Ryggen as a colourful artistic personality. This image fulfilled a general and persistent romantic idea of the female artist," says Paasche.
"They described her as a 'child of nature'. A sensitive, spontaneous and expressive soul whose primary purpose was to express herself through her own medium. A medium that in Ryggen's case also belonged to the female sphere – the loom."
Paasche emphasises that the political, the intellectual and the artistic aspect, as well as the choice of tapestry rather than applied arts, have received little attention in the literature about Ryggen.
"This partly has to do with the fact that women were not considered intellectual", says Paasche.
Archive work
According to Paasche, her thorough source work is her most important contribution to the research on Ryggen. Furthermore, she contributed to having Pia Widell's archive moved from Lund to the Gunnerus Library at Norwegian University of Science and Technology (NTNU) in Trondheim.
"There is evidence in the sources for everything I have written, which will make it easier for future Ryggen researchers to do their work," she says.  
Translated by Cathinka Dahl Hambro. 
Hannah Ryggen
Norwegian textile artist.
Born in 1894 in Malmø in Sweden, died in Trondheim in 1970. Lived and worked in Ørland in Sør-Trøndelag from 1924 to 1957.
Ryggen was a renowned artist in her own time. Her work was accepted and displayed at the annual Høstutstillingen ('the Autumn Exhibition'), she was Norway's representative at the Venice Biennale, she received state-funded artist's scholarship and was conferred a first class knighthood of St. Olav's Order.
The largest collection of Ryggen's art is displayed at Nordenfjeldske Kunstindustrimuseum (National Museum of Decorative Arts and Design) in Trondheim.