The Norwegian gender quota law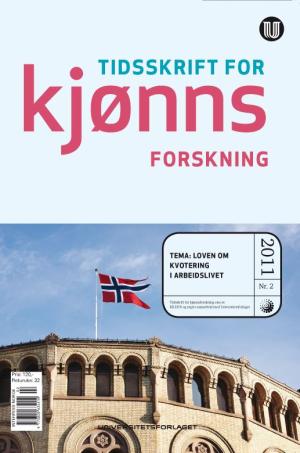 Articles
Fredrik Engelstad:
Are gender quotas justifiable in the private sector? A normative analysis
The introduction of gender quotas to boards of directors in Norwegian public limited liability companies obviously constitutes an intervention into private property rights. Is this intervention justifiable, and if so, what are the valid arguments? The white paper introducing these changes to the Public Limited Liability Companies Act in 2002 assumed that the reform would lead to increased productivity and to enhanced democracy and gender equality. This paper argues that assumptions of productivity increases rest on shaky foundations. However, both utilitarian theory and Rawlsian "justice as fairness" may justify the intervention from the point of view of political theory. This is based on assumptions that informal discrimination is mitigated by the reform, and that the growth in female role models weakens adaptive preference formation among prospective women candidates for top positions in business.
Key words: Gender quotas, boards, justice, productivity, normative theory
Mari Teigen:
Quota tradition and expansion of state control
Gender quotas are currently the object of renewed global attention. In Norway, the establishment of quota measures reached its peak in the 1980s, with internal quota procedures being introduced by several political parties, quota measures introduced to legally regulate the gender composition of publicly appointed decision-making bodies, and positive action procedures introduced in employment (mostly public sector) to promote gender balance and in different fields of education to balance admission. This article describes and discusses aspects of the new, Norwegian quota law which regulates the gender composition of boards governing key sectors of Norwegian economic life. Its core question is how and to what extent the law challenges the Norwegian gender equality political tradition of non-involvement with the affairs of business and commerce. This implies a discussion of the movements in the interface between politics and economy.
Key words: Gender equality, quotas, economic life, boards, representation.
Siri Øyslebø Sørensen:
State feminism meets the business sector. The background for and advancement of gender quotas on company boards as a political reform
The aim of this paper is to explore how various processes and events in different social arenas contribute in creating the possibility for and advancement of policy reform. It does so by studying the background for, and the 2003 adoption of, the policy reform introducing gender quotas for Norwegian company boards.
Analysis of qualitative interviews, documents and media texts shows that state feminist institutions had an influence in producing a "governmentality" regulating the gender balance within the corporate sector. However this governmentality did not have the strength to create a reform breakthrough on its own. Contrary to mainstream opinion, this paper argues that the seemingly ineffective corporate-sector strategies for increasing the number of female top leaders constituted a critical precondition for the reform breakthrough. It also demonstrates how the turning point in the lead up to the policy decision can be characterized as a "slight surprise of action".
Key words: state feminism, governmentality, gender equality, policy reform